Darren Hicks
Getting to know Darren Hicks
World Record Holder and Australian Paralympic Cyclist
Wurth Australia knows talent when they see it. South Australian Paralympic cyclist, Darren Hicks resonates strength, passion and determination.
Cycling is a very expensive sport. From the cost of several customised bicycles, to the constant upkeep and travel expenses, we wanted to help Darren achieve his goals without having to worry about the cost of tools and maintenance products. We had the joy of interviewing Darren as he works tirelessly to reach his next goal – the Track National Championships being held in Brisbane at the end of the year.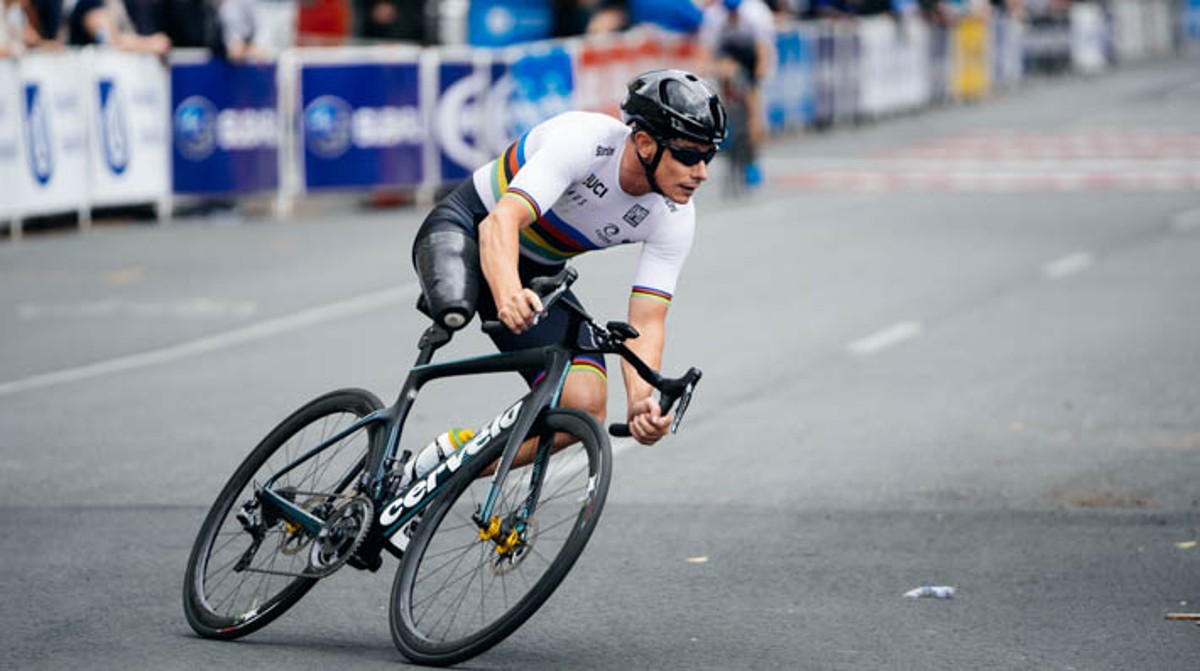 When did you first discover Wurth products?
"I vividly remember the Wurth logo on the boxes of fasteners and spray cans scattered around my Dad's shed and at his work. This was be back in the 90's. My Dad is a pretty particular guy so if he was using it, then it was definitely good stuff!"
How did you get into cycling and what has been your greatest achievement so far?
"I have ridden bikes all my life, some of my earliest and definitely fondest memories are of my brother and I building jumps in the park behind our childhood home in Darwin. After that, I started racing BMX when I was 10 and just never stopped.
After my accident, in which I had my right leg amputated above the knee and broke my C2 Vertebrae, I went through some very dark times. I had spent 29 years of my life being able to do everything a certain way and then in the blink of an eye, all that changed. Due to my injuries from the accident, BMX was no longer an option, but I still loved riding so started again during my rehabilitation.
So although I have won multiple World Championships and set a World Record, my greatest achievement is and will always be that I went through hell and came out the other side a better person. I have a life I am very proud of, with clear goals I am focused on and a belief in myself I've never felt before!"
How many hours a week do you train?
"Each week I'm on the bike between 20 to 25 hours, I also train in the gym three times a week generally for around 2 hours each session. I train seven days a week, generally in blocks of 6 to 8 weeks and vary from 1 to 3 sessions a day."
How will your partnership with Wurth help you with your goals?
"My bikes are very high end, precise pieces of equipment. Partnering with Wurth allows me to have tools and maintenance products that match the high quality level of my bikes. This gives me fantastic peace of mind!"
What is your favourite Wurth product?
"It may sound like an odd choice, given how many items there are in the range, but the simple T-Handle Hex/Allen key is my favourite. It's something that I use almost every day when I'm working on my bikes."
What is your biggest challenge?
"Hmmm, to be honest I'm not sure. I'd probably say that my accident and the year after has been my biggest challenge both mentally and physically. Now that I've gotten through that, most challenges don't really compare."
What advice can you give others who may be struggling at the moment or have been through a traumatic event?
"This is a tough one because everyone's situation is different. I can tell you what I've done though and if that helps people in some way, then great!
So during this crazy period of lockdowns and restrictions, what helped me stay positive and focused was looking at what I could still do for training, and tweaking my program to suit.
My primary goal for 2020 was always the Tokyo Paralympics. This event would have taken place at the end of August. So when the postponement was announced, my team and I decided to continue training as if we were still competing this year. This allowed me to continue aiming to reach for my goals and gave me something certain to stay focused on. I feel this played a huge role in helping me stay positive and driven during so much uncertainty.
So my advice in short would be: find a goal or target to focus your time and energy on. The beauty of this is it can be as big or as small as you like (remember to keep it achievable though!!). I like to give myself a time frame for things so it keeps me accountable for my progress, so perhaps set yourself a date you would like to achieve your goal by. Once your target is set, start chipping away!! Just remember that not every day will go perfectly and it's ok to take a day off if you need it!"
What are your upcoming cycling events?
"Given the current travel restrictions, there isn't a huge amount right now. My next bigger event will be the Track National Championships which are being held in Brisbane in December. Things will pick up again in 2021 but where and when are still undecided."
Where do you see yourself in 5 years?
"I'm not entirely sure, maybe still racing, providing I am still competitive. Otherwise, I think I will still be involved in Para Cycling but transitioning to more of a mentoring/coaching style role, and also doing more keynote speaking."
We wish you all the very best Darren and stay tuned for more updates!
​ ​